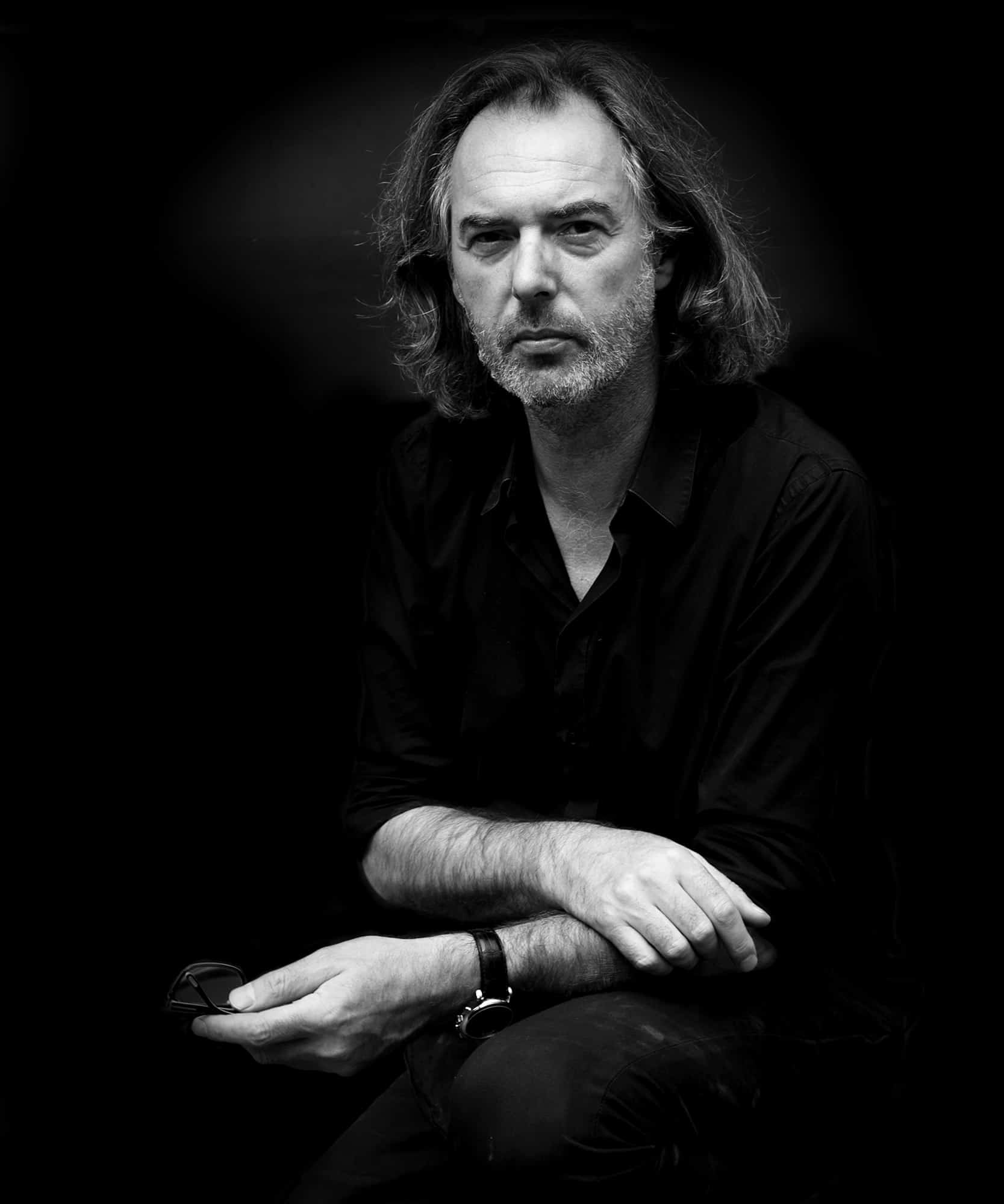 1960   Pol Quadens was born in Brussels. His father was active in the fields of composites and metal industry, and Pol is therefore surrounded by the world of materials since his early childhood. After his artistic studies, he starts restoring vintage cars. This experience makes him gain strong practical skills and deep knowledge of all types of materials.
1987    First creations and production of objects. His sensitivity and passion for the arts lead him to the creation of functional artworks. His CD shelf has sold more than 100,000 pieces and has become iconic in its category.
1995    Pol meets with an engineer of the Donnay workshops who makes him discover carbon fiber. He produces the C 06 piece, one of the lightest chairs in the world – 950 grams – that proves commercially very successful.
2000    Release of the 4 inches high Strada women shoes, entirely handmade in carbon fiber. These singular shoes feature a revolutionary detail: they are high but they have no heels. Madonna loves the concept and wears the shoes during one of her concerts.
2007    Pol Quadens enriches his creations by working with new materials and begins to include Corian®. He designs a whole range of furniture pieces for Brussels-based OVO Editions.
2013    Pol Quadens is back to his roots and starts producing high end unique pieces and limited editions in stainless steel.
2014    Publication of his first monograph by Parisian publisher Somogy and distributed by Flammarion.
2017    He signs his iconic « Infinity » bookshelf, an entirely handmade stainless steel piece which has required more than 400 hours of work.
2018    In addition to his designer activities, Pol Quadens shifts also towards art and monumental sculpture and starts developing his work to sculptures. His latest creation is « 16 Stones », a 4.5m high work inspired by the primitive « Cairn », which consists in marking a site or a common area by piling up stones. « 16 Stones » is the first creation of its kind and Pol is now developing the concept for international private collections -interiors and sculpture parks-.
2019    Well established design gallery from Paris starts to work with Pol on the Brafa art fair Brussels in january.
He starts a colaboration with a top agent for the sculpture works in New York
2020: The installation of the Flint 2020 in Switzerland in june is a success besides, he worked hard during the Covid 19 time on a new creation, the Lockdown bench in stainless steel. Pol works now with three agents one in London the other in Brussels and a third one between the US and Europe.
In October a new sculpture Flint II 450 cm high will be raised on Bd de la Woluwe Brussels This will be his first public sculpture.
1985 «85 years later», Horta Museum, Brussels
1987 «Ligne», Galerie de la Reine, Brussels
1990 « Pol Quadens », Le Botanique, Brussels
1992- 1994- 2010 Biennale Interieur, Courtrai
1993- 1994- 1995- 1996- 1997- 1998 Salone del mobile, Milan
2000 Swatch exhibition, Tribeca Hotel, New York
2004 « Strada shoes », Première Classe, Paris
2006 « Strada shoes », Vierre Via Montenapoleone, Milan
2007 « Inside Outdoors », Pierre Bergé & Associés, Brussels
2008 « Fantômes  de meubles », Galerie du Passage, Paris
2010 « Ghost Furniture », Rainbow Fine Arts, New York
2011 « Epreuves d'artiste », Pierre Bergé & Associés, Paris
2013 « Pol Quadens », Galerie SH, Brussels
2014 « Entre deux chaises un livre », Villa Empain, Brussels
2014 « Pol Quadens », Hotel Richelieu, Pierre Bergé & associés, Paris
2015 « Pol Quadens », galerie LKFF, Brussels
2016 « Pol Quadens », Hotel Richelieu, Pierre Bergé & associés, Paris
« Pol Quadens », Galerie Futur Antérieur, Brussels
« Pol Quadens », NHOW Hotel, Milan
2017 BRAFA, galerie Futur Antérieur, Brussels
2018 COLLECTIBLE design fair, Brussels
2019 BRAFA, galerie Maison Rapin, Paris
2010 Les portes Louise Brussels (BE)
2012 Les oiseaux Samsara Luberon (FR)
2014 Vertigo (2) Private collection Ohain (BE)
Vertigo (2) Private collection Namur (BE)
2015 Vertigo (1) Private collection Brussels (BE)
2016 Ovoid Private collection Ohain (BE)
2018 16 stones Château de Vullierens S/ Morges (CH)
2020 – Flint 2020 Château de Vullierens/ Morges Switzerland
– Flint II Boulevard de la Woluwe Woluwe st Lambert Brussels Elyx building
2021 Vertigo I private collection Gembloux
2021 Vertigo II Private collecion Switzerland
2022  Circle Bench Boulevard de la Woluwe Brussels @ Elyx building place.
1992 Pol Quadens 80 pages 1000 ex Editor Imschoot Gent

2014 De l'idée au dessin, du dessin vers l'idée
225 pages 2000 ex Somogy Editions / Flammarion Paris
Preface : Jean-Louis Servan-Schreiber
2020 Back to steel
Editions : Snel éditions 2020. 108 pages cartonné, full quadri, 500 exemplaires. 320/240 mm
Karl Lagerfeld
Baronne A de Rohtschild

Jacques Grange
Pierre Passebon
Jean Louis Servan –Schreiber
Madonna
Christian Louboutin
Rolf Fehlbaum
Château de Vullierens
David Sylvian
Sir Norman Foster
Terry de Gunsburg
Pierre Bergé
Antoine Godeau
Galila Barzilai-Hollander
Robert Bovet
Thierry Barbier Mueller